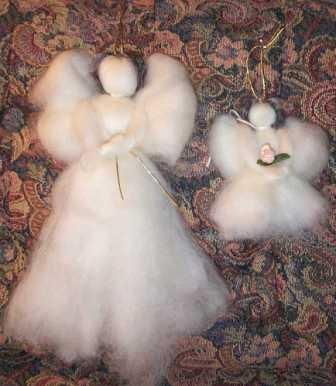 Wooly Wonderful Wool
Felted angel Directions

Farm Fresh Ideas
Friendly Wooly Crafts
By
Katrina Benjamin
(the sheepy lady)

Wooly Angel
Materials needed:
Roving
gold metallic elastic cord
dark locks for angel hair
Flowers for angels hands –-- plain is very cute too!
White string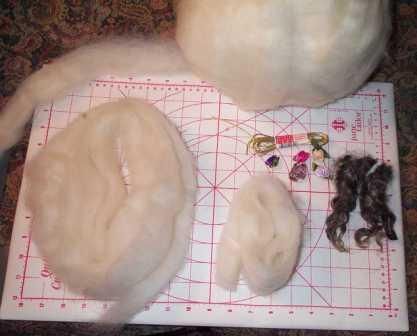 First wrap roving around its self like this!
8-10 inches for a large - sized angel –for your front
door 4-5 wraps – total 8-10 across
4-6 inches for a tree ornament.. 4-5 times total
*Tie a string on the top – I use gold metallic elastic
cord as it is used as a hanger to hang up your angel
*Wrap more roving around your hand for angel wings
* twist thin bit of roving and tie into knot for hands
* tie hands to angel wings with white string with the
knot as the hands
*Tie some wool locks to the top of the head with the
elastic cord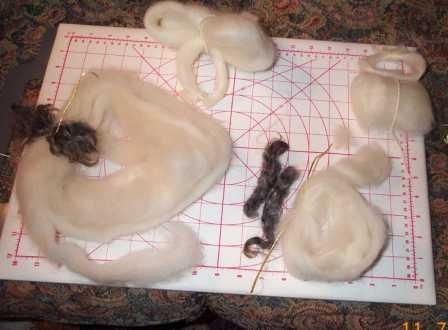 *Now it is time to make the angels head!
Pull the head from the top of the wool wrap and pull down
the locks to make the angel hair -
I show the front of one and the back of another angel.
Tie string around neck for head – tie in the "hair" into the neck too.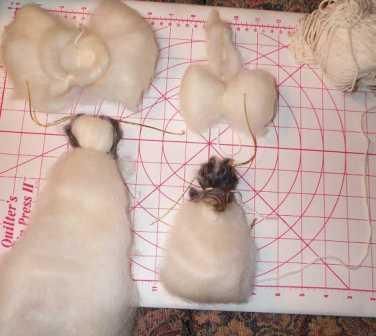 Now add the angel's wings and arms to the body of the angel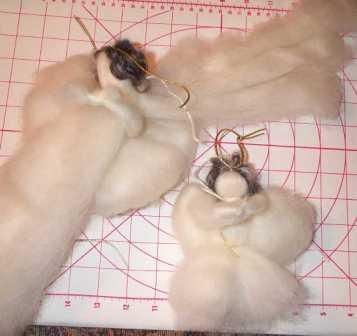 cut apart roving at bottom
Divide the roving into halves and put the wings in the middle and run the hands through the front.
You could also just wait to tie the hands after the body is formed..
I like to use the elastic cord for the waist as it is easy to tighten
Enjoy making your wooly angels – they make great gifts –
Wooly thanks! Katrina Benjamin
(the sheepy lady)