You can Dye Wool with Easter Egg Colors!
Dyeing Wool with Easter Egg Colors is as easy as doing the eggs at easter!
Wool and other protein fibers should be dyed in an "acid bath" dye pot, which is what is used when you use Easter egg dye in vinegar and water.


Place dry, white or colored washed wool or roving in the cups of dye, pushed it down to immerse the roving in the dye, and put the cups in the microwave on high for 3 minutes for the 5 cups.


Let the roving or washed wool locks cool over night in the dye, then take it out, squeeze it, and rinse it under cool water, and squeeze it again. Lay the wool out to dry on an old towel or window screen.


If not all the dye is "exhausted" in some of the cups (meaning that the water in the cups is not clear, but has some dye in it), put more roving in them and "zap" them in the microwave for 2 minutes for the 3 cups, leaving them to sit overnight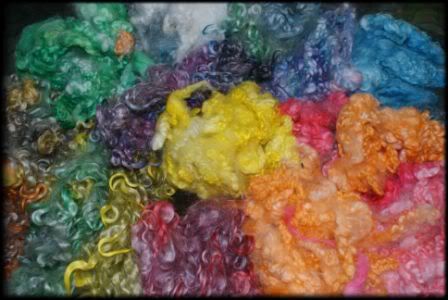 You can dye lighter colored wool for more wonderful shades!
Or even make a Rainbow Ewe!